Karel van Holten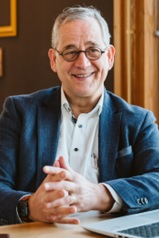 Karel is een allround sparringpartner voor MKB-bedrijven waarbij hij als managementcoach directies en (management)teams begeleidt bij veranderingsvraagstukken op zowel organisatorisch als persoonlijk vlak.
Sinds 2004 vervult hij de rol van "regisseur van verandering en verbetering" binnen familiebedrijven waarbij hij de familie en het management coacht bij strategische keuzes in relatie tot het inrichten en vormgeven van de organisatie. Zijn aanpak is pragmatisch, daadkrachtig en direct en hij deinst er niet voor terug om mensen uit te dagen en te spiegelen. Daarnaast treedt hij regelmatig op als mediator in zowel zakelijke als privésituaties of juist op het snijvlak van beiden.
Met zijn bedrijfseconomische achtergrond, aangevuld met opleidingen in Executive Coaching en Mediation gecombineerd met een ruime en brede ervaring op verschillende managementposities in (familie)bedrijven, helpt en coacht hij directie en managers bij bedrijfskundige en organisatorische vraagstukken.
Karel is gepassioneerd om mensen tot hun bestemming te laten komen. Hij is geaccrediteerd voor het afnemen van ontwikkelassessments in het kader van competenties, leiderschap en het helpen ontdekken van een persoonlijke missie.
Naast zijn werk is hij actief als spreker en verzorgt hij spreekbeurten en studies over persoonlijke groei en ontwikkeling.
Contact
: Bel
06-53925262
of
Dit e-mailadres wordt beveiligd tegen spambots. JavaScript dient ingeschakeld te zijn om het te bekijken.
.
Netwerk
: Voorzitter CBMC Goeree-Overflakkee, secretaris Stichting Volharding
LinkedIn
:
https://www.linkedin.com/in/karel-van-holten