Wat draagt onze cursus bij aan jouw opvolgingsproces?
Wat draagt onze cursus bij aan jouw opvolgingsproces?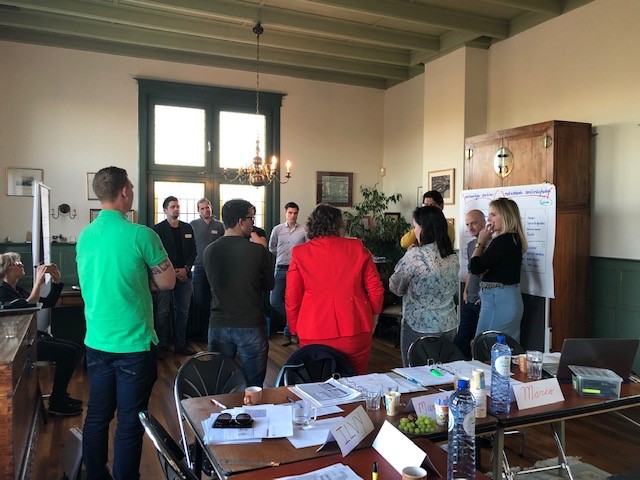 We zijn in gesprek met drie opvolgers in één familiebedrijf in de interieurbouw, die het afgelopen jaar samen de cursus Opvolgen in het Familiebedrijf bij ProMissie hebben gevolgd. De twee broers Casper en Vincent en hun zus Helena zijn er enthousiast over. "Zouden jullie het anderen aanraden?" "Nou en of," zegt Casper. "Het is voor ons een goede eerste stap geweest, waarbij we zicht hebben gekregen op wat er bij bedrijfsopvolging komt kijken en welke volgende stappen we zelf en met elkaar moeten zetten."
Het drietal werd via de branchevereniging CBM geattendeerd op de cursus Opvolgen in het Familiebedrijf van ProMissie. Het leek ze een goede start om meer na te gaan denken over het opvolgingsproces en dat concreet te maken. Ze hadden het er wel steeds over met hun ouders, maar hadden geen idee waar te beginnen en wat er allemaal bij kwam kijken. Door deze cursus kwam het onderlinge gesprek op gang en kregen ook de ouders van het drietal handvaten om bepaalde zaken op te pakken. Het werd een gezamenlijk project.

Werken voor je eigen familiebedrijf is anders
Casper is de oudste en erg gemotiveerd om het bedrijf over te nemen. Hij vindt dat hij een mooi vak uitoefent en geniet van het werken voor en met klanten. Het organiseren van projecten geeft hem energie. Een eigen bedrijf is hard werken, maar hij stroopt graag de mouwen op. Zijn doel is om te ondernemen, eigen baas te zijn. Vincent vindt het belangrijk om te staan voor de kwaliteit van het bedrijf. Voor een baas werken voelt toch anders dan in het familiebedrijf. Het geeft meer voldoening als ze een mooi eindresultaat neergezet hebben bij klanten. Dat geeft een trots gevoel. Helena beaamt dat. Zij werkt nu nog buiten het familiebedrijf, maar mist de passie, het zelf verantwoordelijk te zijn, zelf ergens voor te gaan, risico's nemen, ergens trots op zijn. Dus ook zij zal over een jaar of twee graag in het bedrijf komen werken.

De oogst van de cursus Opvolgen in het Familiebedrijf
Vòòr de cursus was overdragen een drempel die lastig te passeren was: Wat pak je als eerste op, wat is belangrijk? In het begin was de stip op de horizon dat de kinderen het bedrijf zouden overnemen. De stappen om daar te komen zagen ze nog niet. "Nu zien we dat er iedere keer een stap gezet moet worden en dat is dan op dat moment even het doel. Daarna gaan we weer verder naar de volgende stap. Daardoor is er veel meer rust gekomen," aldus Helena.

Tegelijkertijd heeft de cursus Opvolgen in het Familiebedrijf het drietal opgeleverd dat hun persoonlijke groei naar het ondernemerschap een enorme stimulans heeft gekregen en ze van afwachtende opvolgers veranderd zijn in enthousiaste proactieve opvolgers. Ze nemen zelf meer het initiatief en durven, met respect, wat meer tegengas te geven. Het heeft ze meer bagage gegeven en daardoor zijn ze een volwaardiger gesprekspartner geworden. "Het heeft ons meer overzicht gegeven en handvatten. Veel nieuwe onderwerpen ook om over na te denken, veel nieuwe informatie die maakt dat je in actie komt," vertelt Casper. "Ook de gesprekken met mentor Paul Hofstede waren inspirerend." Vincent vult aan dat hij het heel fijn vond om in een groep bij elkaar te komen en anderen over hun ervaringen te spreken. "Ook al zit iedereen in een andere fase of zelfs een andere situatie, horen wat zij aan stappen zetten, werkt motiverend." Voor Helena was het een bevestiging van dat ze op het goede spoor zit en met de juiste dingen bezig is.

Nalatenschap
Straks gaan ze met zijn drieën verder. Het zal vast weleens schuren, maar ze zijn alle drie wel van plan om alles bespreekbaar te maken. Ze hebben namelijk een gezamenlijk doel! Bovendien vinden ze ook het belangrijk om de goede privérelatie zo te houden. Ze hebben er alle drie vertrouwen in dat dit gaat lukken. De komende tijd willen ze benutten om samen een plan te maken voor het bedrijf: waar ze heen willen en hoe daar te komen. Natuurlijk in samenspraak met hun ouders: "want het is uiteindelijk hun nalatenschap en we doen het met elkaar!"
Cursus Opvolgen in het Familiebedrijf
De cursus bestaat uit tien bijeenkomsten waarmee we potentiele opvolgers willen helpen in hun antwoord op de vraag: "ga ik wel of niet opvolgen en zo ja, hoe?" Regelmatig organiseren we gratis introlessen om kennis te maken met de inhoud van dit traject. Kijk voor meer informatie en aanmelden hier.